Promo Banners
9th Annual Event - The largest Business Continuity Planning event in the Northeast.
The following banners/buttons are for use in promoting the 2010 Business Continuity & Corporate Security Show & Conference. To download these images, place mouse over image, right-click on mouse and select 'Save Picture As...' option.
Please link to www.flaggmgmt.com/bc.
Full banner (468 x 60)
Vertical banner (240 x 120)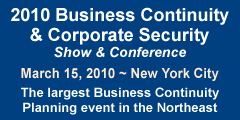 Square button (125 x 125)