Exhibitor Overview
9th Annual Event - The largest Business Continuity Planning event in the Northeast.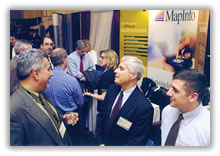 Wall Street and the New York Marketplace
have the 9th Annual Business Continuity &
Corporate Security Show & Conference
The 2009 conference assembled major speakers from Wall Street firms, SIAC, NYC Office of Emergency Management and major BCP users in New York and Wall Street. The 2010 conference program will once again assemble major BCP and Wall Street users of business continuity and infrastructure security.
The exhibits and sponsorships are opportunities for the leaders in:
Data storage

Business continuity

Storage area networks - SAN

Back up security systems

Alternative trading and operating sites

Business continuity planning

Systems integration

Information security

Real estate and relocation services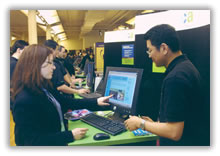 Meet senior level IT managers
, global continuity managers, infrastructure security managers at a New York site.
Studies indicate that investment firms are spending more of their IT budgets
on infrastructure security and global continuity. This is an opportunity for vendors vying for a share of the IT budget.
The Metropolitan Pavilion
is a convenient and spacious facility, 125 West 18th Street, in the Chelsea district of Manhattan. It is close to subways and transportation into the city from other locations.
The Conference Program will feature speakers from Wall Street corporations and financial executives who have developed strategies for disaster recovery and business continuity. These financial industry executives will be addressing the need for contingency planning. Financial industry editors will be in attendance as well as financial and business consultants.
The urgency and timeliness of this conference will be an important factor in generating quality attendance for the conference and the show.
Exhibitors Marketing Services will feature exhibitors in all pre-show and conference & show promotion including our Web site, direct mail, email and electronic communication, and advertising in leading publications. Exhibitors will be cross-linked on the show Web site to increase exhibitor Web traffic. Exhibitors will be able to invite their customers to the show with Free VIP Show Passes and email invitations.
Who Should Exhibit

Disaster recovery services

Business continuity services

SAN services

Data warehousing

Data management

Data communications

Data recovery service

Document management

Hazardous material evaluation and testing

Biological and chemical testing services

Electronic data exchange

Virtual private networks

Financial databases

Insurance services

Back office systems

Back up storage systems

Client servers

Consulting services

Security services

Employee identification systems

Alternative power systems

Power protection systems

Claims administration

Internet and electronic systems

Middleware

Network computing

Network management systems

Parallel processing

Real estate relocation services

Security systems and equipment

Private security agencies

Risk management

Systems integration

Mail handling services

Mailroom systems

Wireless communications

Workstation hardware and software

Telecommunications systems and services

Recruitment and HR services

Medical and employee benefits services

Temporary and contract staff services
Plan to exhibit. Make your reservation in one of five ways:
Web, Email, Phone, Fax, Mail
Flagg Management Inc.
353 Lexington Ave., New York, NY 10016
Tel: (212) 286-0333
Fax: (212) 286-0086
flaggmgmt@msn.com