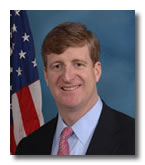 Patrick Kennedy, former U.S. Congressman from RI

Congressman Patrick Kennedy served 16 years in the U.S. House of Representatives and is predominantly known as the author and lead sponsor of the Mental Health Parity & Addiction Equity Act of 2008. This dramatic piece of legislation provides tens of millions of Americans who were previously denied care with access to mental health treatment.

Congressman Kennedy has authored and co-sponsored dozens of bills to increase the understanding and treatment of neurological and psychiatric disorders, including the National Neurotechnology Initiative Act, the Genomics and Personalized Medicine Act, the COMBAT PTSD Act, and the Alzheimer's Treatment and Caregiver Support Act.

Congressman Kennedy is a winner of the American College of Neuropsycho-pharmacology Distinguished Service Award, the Society for Neuroscience Public Service Award, the Autism Society of America Congressional Leadership Award, the Depression and Bipolar Support Paul Wellstone Mental Health Award, and the Epilepsy Foundation Public Service Award.
Erin Barfels
Chief Human Resource Officer
ARAG®

As Chief Human Resource Officer at ARAG, Erin Barfels has executive responsibility over all of the people strategies of the organization including workforce planning, compensation and benefits, organizational development and internal brand distinction to execute and deliver on business objectives.
Erin brings nearly 15 years of experience in a variety of industries to drive cultural change and execution of organizational objectives.
At ARAG, Erin has effectively utilized her leadership role to inspire the culture, values, benefits and individual growth opportunities making ARAG an exceptional company, where individuals can enjoy a rewarding career while making a difference in the lives of ARAG's customers.
Erin's strong yet caring leadership style is instrumental in driving team member satisfaction. Her efforts to provide team members with world class benefits, community outreach support, individual growth plans and educational benefits has established ARAG as a "Best Places to Work in Insurance" Company1 two years in a row. This recognition is especially meaningful as it is based on employee feedback regarding satisfaction with the organization.
Erin earned a bachelor's degree in psychology and a master's degree with an emphasis in human resource management from Iowa State University.
Joseph L. Murgo
SVP and General Manager
SRC, an Aetna Company

Joe is Head of SRC and brings nearly 30 years of senior-level general management, finance, operations, strategic planning, project management, health care IT and marketing health care experience to this important role.
Most recently, Joe served as Executive Director of North American Health care for Tata Consultancy Services, one of the world's largest IT firms based in Bombay, India. Other previous leadership roles include: Executive Vice President and Chief Financial Officer for Hospital Partners of America, a private equity backed, start-up hospital company; Senior Manager And Practice Leader for Cap Gemini Ernst & Young LLP's Southeast managed care consulting practice; multiple Sales And Marketing Executive roles and President/General Manager roles for some of the nation's largest payers such as Maxicare, Aetna and CIGNA, with responsibility for P&Ls in excess of $500M; and Chief Marketing Officer for a new venture-based company he helped start up, introducing cosmetically-tinted soft contact lenses into the U.S. marketplace.
Joe has a Bachelor of Science degree from Georgetown University.
Mark Parabicoli
Managing Director, Auto & Home Voluntary Benefits
Liberty Mutual

Mark Parabicoli has been with Liberty Mutual for 18 years working in the Affinity Marketing and Claims arena. Mark's current role in the Affinity Marketing department is securing and maintaining partnerships with employer groups in order to incorporate our auto and home products into members' voluntary benefits programs offered to their employees.
Prior to transitioning in January 2009 to his current position, Mark was the Manager of Examining and Quality Assurance for the Claims Department. In this roll he managed a team that acted as technical consultants for the national Claims field operations for complex and high-exposure claims. His Examining team also monitored and managed large exposure litigated files, including class action lawsuits. Mark's Quality Assurance teams monitored the quality of ongoing Claims work product so that a consistent product was delivered to our customers with superior quality service, while also remaining complaint with all state claims handling regulations.
Mark earned his Bachelors of Business Administration from the University of Massachusetts in 1990.
Paul D. Sari
Executive Director
HSA and Corporate Prepaid Business Development and Client Management
J.P. Morgan

Paul is responsible for Sales and Account Management within the Consumer Directed Healthcare and Prepaid Card groups. Prior to joining J.P. Morgan, Paul worked for both Bank of America and Mellon Financial in sales, relationship management and product management roles across a variety of retirement and benefits related businesses. Prior to entering the private sector, Paul served as an Infantry Officer in the US Army's 75th Ranger Regiment. Paul has a Bachelor of Arts Degree in History from The Citadel and a Masters in Business Administration from the SC Johnson Graduate School of Management at Cornell University.
Barry Schilmeister
Partner
Mercer Health & Benefits

Barry is a Partner in Mercer's Health and Benefits business, working with both Mercer's Norwalk and New York consulting offices. He has been involved in insurance, benefits and actuarial work for over thirty years: over twenty years in group benefits consulting-the last sixteen with Mercer-preceded by twelve years as an insurance company actuary, primarily involved in health care programs.
Barry is a Fellow of the Society of Actuaries, and a Member of the American Academy of Actuaries. As an actuary and senior consultant at Mercer, he advises large employers on the structure and financing of their group benefit programs. Projects cover the full range of benefits, active employees and retirees, insured and self-funded arrangements, managed care, single option and flexible benefits, traditional and non-traditional programs. Barry is the New York spokesperson for Mercer's National Survey of Employer-Sponsored Health Plans, the largest survey of its kind.
Barry has been quoted in such publications as the New York Times, Wall Street Journal, Time, Crain's New York Business and Newsday on a variety of benefit-related issues. He has appeared on CNBC, Business Week TV, the NBC Nightly News and the Fox Business Network, discussing the cost of employer-sponsored health care and trends in active and retiree medical benefits.
Education: University of Michigan, Bachelor of Arts, Mathematics, Statistics, Actuarial Science.
Joan Smyth
Partner
Mercer Health & Benefits

Joan Smyth is a Partner in the New York office of Mercer Health & Benefits and is the office sales manager for New York City and Long Island.
Joan has over 20 years experience in the industry, working with mid-sized employers in the design and implementation of benefit programs. Her focus is on strategy, long term solutions and enhancement of overall benefit offerings, as well as cost control, and she is a frequent speaker at industry events. Before joining the firm in 1993, she was vice president at a regional brokerage firm, and was previously with The Equitable Life (now AXA). She also has experience in the interior design, fashion and electronics industries.
Joan graduated from The Queen's University in Belfast, Northern Ireland, with honors in English Literature and Language.
David Tinkelman, M.D.
Vice President of Health Initiatives
and Medical Director for FitLogix and QuitLine programs
National Jewish Health

David Tinkelman is a physician, an executive and a researcher. Currently he serves as Professor of Pediatrics and Vice President of Health Initiatives at National Jewish Health in Denver, Colorado, a position he has held since 1995. During his tenure at National Jewish, Dr. Tinkelman created and served as the Medical Director of the Disease Management programs. These include the "Quit Line", a smoking cessation telephonic and Internet program serving various United States markets and, most recently, FitLogix, a new multi-media weight management program with special capabilities for co morbidities, such as diabetes and cardiovascular disease.
Active in medical research and the author of over 135 journal publications and book chapters focusing on asthma, COPD and allergy, Dr. Tinkelman has more recently expanded his research to include socioeconomic issues in healthcare. He is a past president of the Joint Council of Asthma, Allergy and Immunology and a past Editor of the Journal of Asthma. He is the co-editor of four textbooks related to respiratory disease.